A Short Hike
An improv comic by Seth T. Hahne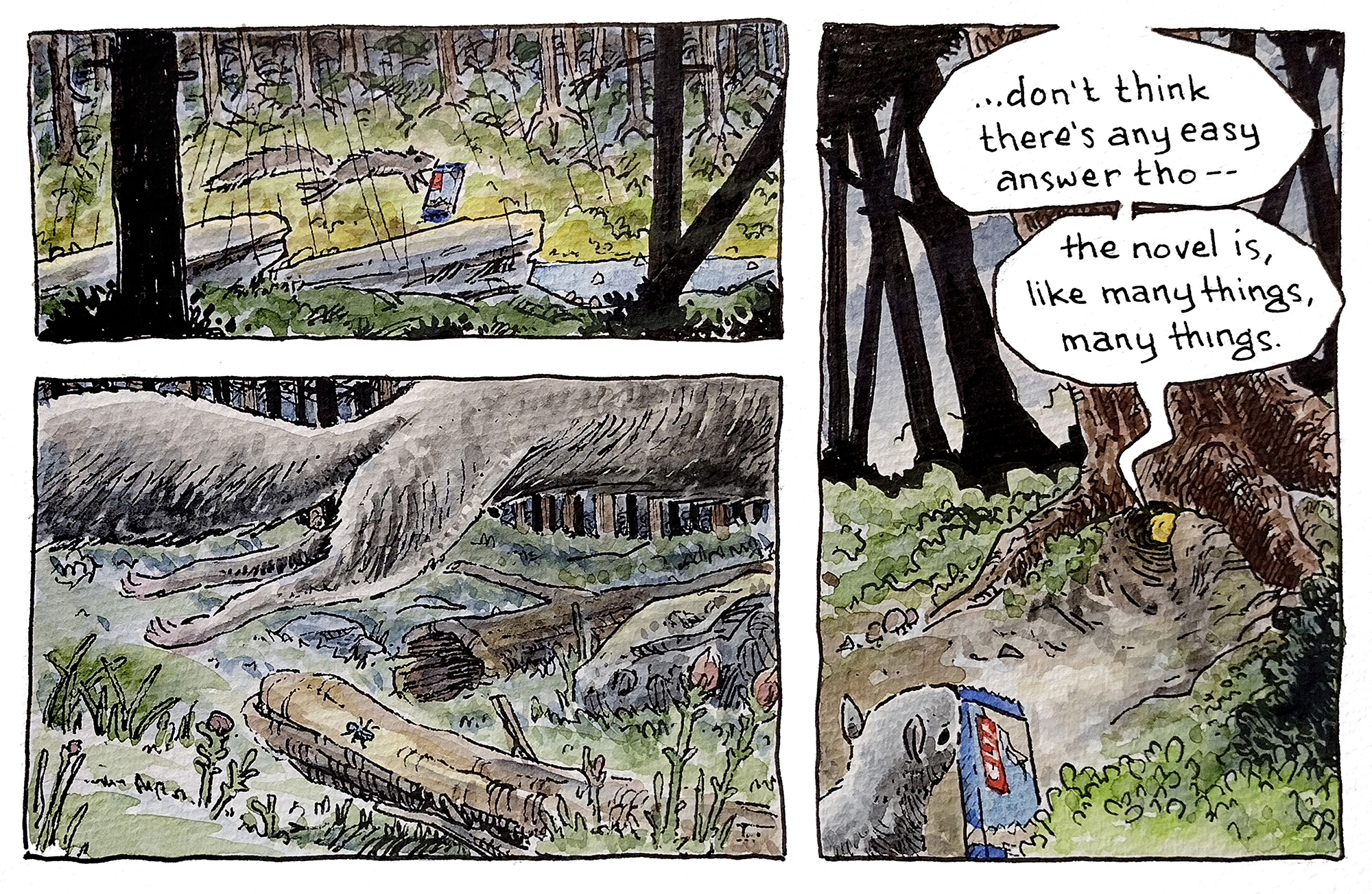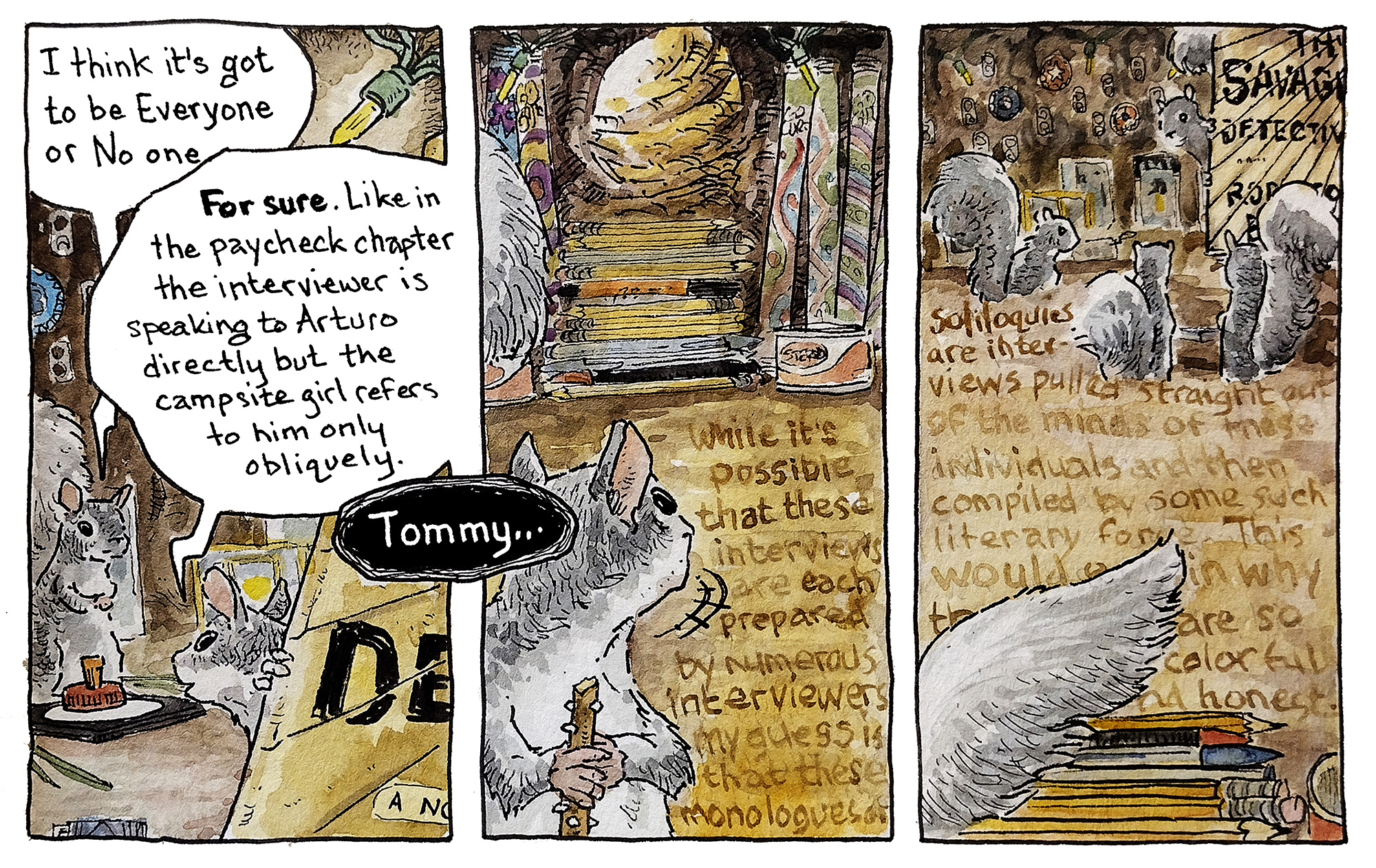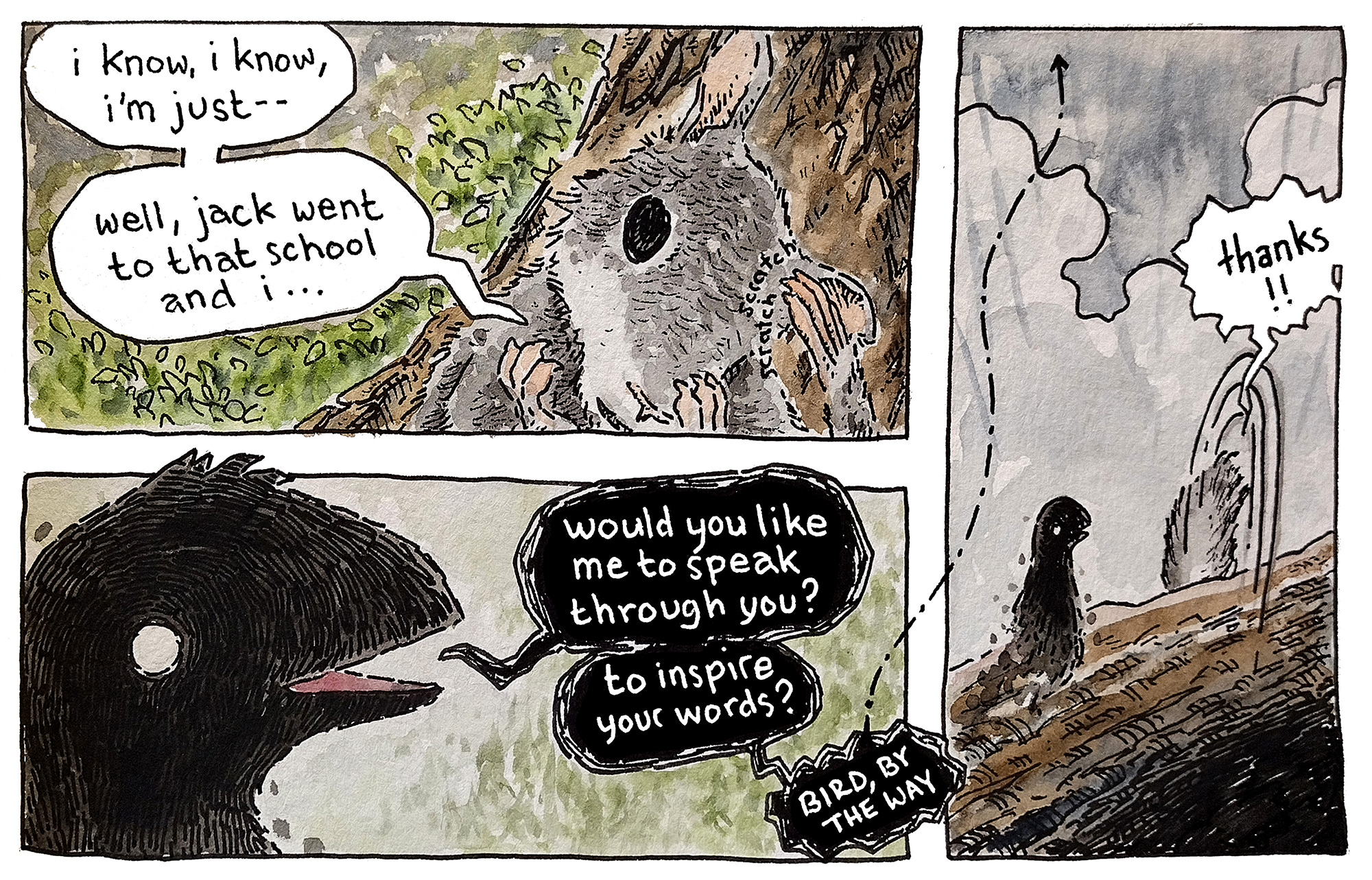 Every week, during church, I draw. I have a hard time with monologue. Speeches, lectures, sermons, meetings. Rather than able to focus, my mind either drifts untethered, always circling back to my pain, or I simply nod off. In order to stave either of those ends, I draw. It keeps me awake and distanced from my pain. I only draw in black and white, but sometimes when I get home, I'll watercolor over the drawings.
On 27 November 2022, I began a new sketchbook with a mountain scene divided into two panels, one sunny and one rainy with a simple word balloon, "Huh. Rain." The next week, rather taken with the scene, I drew a follow-up, the young woman baffled by the weather and trying in vain to swipe her phone. I liked it but was troubled by the idea that I'd begun drawing a comic story. I worried, lightly about the next Sunday.
In the back of my mind, I was trying to decide where if anywhere I would take this churchdoodle comic story. On the one hand, it could be a normal drama about normal people negotiating human relationship. On the other, the next page could follow that squirrels, maybe to a discussion of the novels of Roberto Bolaño. Which sounded ridiculous, so of course that's what happened.
This was an improv comic in that, at least through the first half, I didn't know where it was going. Saturday evenings, I would think about the next page and write up some dialogue so that I wouldn't be trying to come with dialogue during the sermon. Sunday I would draw.
I had a kick throwing Savage Detectives crit into a goofy little book.
The stuff about whether the little shade is a boy or girl and whether it matters and to whom comes straight out of our own experience with a lost little one. Good ol' Whistlefoot. Our oldest thinks she's a girl. Our next oldest thinks he's a he. I think her being a girl would be nice because it would give us a G-B-G-B-G structure to our procreative prowess, but as it is, G-B-?-B-G still works. Hell, that's grim. Anyway, that's where the whole middle section comes from. It's been 6 years, but I still think about Whistlefoot a lot. What we lost, what we gained. Heavy thoughts, there. Appropriate for a squirrel comic.
Around page 16 or so, I knew I'd be running out of pages soon, so I thought about where the story should go so that I could wrap it up satisfyingly (your mileage may vary!) while keeping the punchy improv-y weirdness about the whole thing.
I think the book is a better success than I would have guessed. 1) I had a blast making it. 2) I laughed a lot along the way. And 3) it feels like a fairly competent story, with multilayered themes and a nice tidy chiastic structure. A-B-C-B-A.