Debuting at SPX 2014
The weekend of 13–14 September 2014, I'll be debuting five works for sale for the first time. Two small comics and two prints and a six-piece set of prints.
---
Golden Rules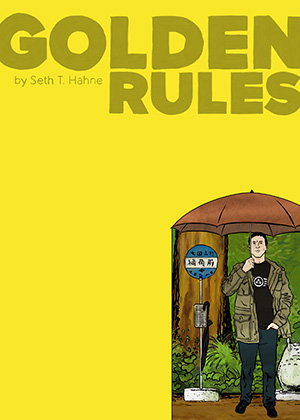 Golden Rules masquerades as an argument for the innate depravity of the human soul, calling on the testimony of millennia of moral philosophers. It wants to be a tour de force indictment of the human spirit, a shameful indication of how bad we all are at heart. But really, that's just veneer (probably) and it's real aim is to shame men into cleaning the seat after they pee on it—or even better, maybe not peeing on the seat at all!
Golden Rules is an 18-page full colour comic written, drawn, coloured, and lettered by Seth T. Hahne (me). It's designed to print at 5" x 7". Though it's got a bit of a moral, it should make you smile. A reader in Germany said, "I giggled. My husband guffawed." I cannot guarantee you will guffaw. You might not. I think it's worth the risk.
Golden Rules will be available in print for the first time at SPX 2014.
About the Successful Kickstarter
Golden Rules sees print due to a successful Kickstarter campaign (check out the Kickstarter video if you want to recognize me at SPX). For its modest $1200 print goal, it received pledges of nearly $1900. This enabled a substantially higher print run.
Kind Words About Golden Rules
"Golden Rules really is a fine comic book—it's about the perfect length for the joke, it's lowbrow without being icky, it deals with a gross subject without being offensive, and it looks really good." – Greg Burgas, Comics Should Be Good.
"I quite enjoyed it. I give Golden Rules an A++" – Kimberly Nobriga, ballet dancer.
"This is the whole syllabus of Virtue Ethics shrunken down into one 18-page micro-graphic-novel. This is Alasdair MacIntyre's After Virtue told through a very peculiar series of episodes, so to speak. It is a very arresting way of getting people's attention to think about this sort of pervasive, never-ending culture of soft narcissism that does not attend to daily habits. And in our daily habits are all of the things that add up to culture and civilization—which is the veneer of manners. If culture is the flow of moral energy that keeps a society intact and if civilization is the veneer of manners that shows that there is such a thing as culture, I think Seth Hahne's comic book does that beautifully." – Gregory Thornbury (president of The King's College in NYC):
And here's David C. Hopkins and Austin Wilson talking about Golden Rules on their podcast, Hideous Energy.
---
A Rainy Day Love Song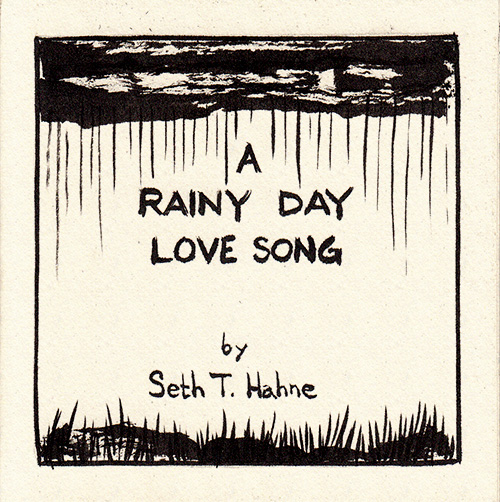 Originally, A Rainy Day Love Song was just a little quick book I raced to put together for my family. On Valentine's Day 2014, I knew I wanted to do something for my wife and two young kids. I was at Starbucks. It was 1:30pm. I had a 4" x 4" booklet of blank pages that I prepared in the minutes before leaving work at 1:15. I had 'til 4:30pm to come up with something. This was my result. I finished with ten minutes to spare.
They loved it and I put scans of the book online for others to enjoy.
For SPX, I've redrawn the book, taking more time and care. It's still just a cute square 4" x 4" book and it's still perfect for giving to a loved one or potential loved one.
---
Golden Rulers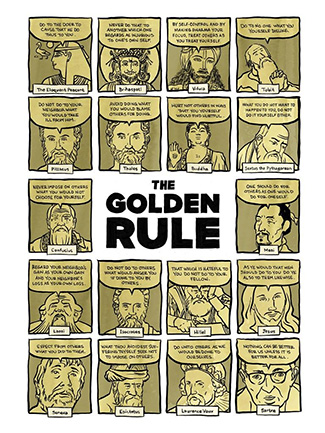 The Law of Reciprocity, The Golden Rule, is one of the oldest and most cherished rules of moral philosophy. Here's a selection of many of the great minds from recorded human history reiterating the Golden Rule in their own contexts. Persons are depicted chronologically, beginning with the Eloquent Peasant, circa 2000 BC.
Golden Rulers is an 8" x 10" print and was prepared special for SPX.
---
If You Sprinkle...
Peeing on the seat is, obviously, gross. Unfortunately, most men have as much luck staying on target as they do pegging red flawlessly in a game of Battleship. This is a gentle reminder that losers have to clean up.
If You Sprinkle... is an 5" x 7" print and was prepared special for SPX. It is suitable for bathroom display in your college dorm. Especially charming in sorority houses.
---
Superfriends
Everyone who is super are friends. That's really all there is to it. Superman, Korra, Cloak & Dagger? Sure. Ghost Rider, the Dragonborn, Huckle Cat? Why not?
Superfriends is a set of six 4" x 6" prints and was prepared special for SPX. They work great in those obnoxious 6-frame sets, which you can usually find on the cheap at TJ Maxx.